Reiki Center of Venice
Ama Deus ~ "Love God"
Ama Deus
This system of healing was interpretated by Alberto Aguas, a member of a family of doctors who lived among the Guaranis tribe, providing medical care for the primitive people. The Guaranis are a stonehaged tribe that live deep in the rain foress of Brazil.
Through those years of building trust, the tribal healers shared their methods of healing.
The sacred bird Irapuru, of the Amazon jungle, is the animal alley and spiritual guide.
This systems has been used for thousands of years.
There are 23 Ama Deus Healing Symbols in this system.
Cost of system: $25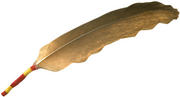 Cost of Course-$25
Have a Question?