Reiki Center of Venice ~ Chios Energy Field Healing
Chios Energy Field Healing ~ Three levels of training
New!
Affordable!
Chios Energy Field Healing Training and Certification
What is Chios?
Chios, pronounced (Chee' -ohss), was created by Steve Barrett. It is a product of seven years of discovery and refinement. Steve says that Chios was a word that was taken from his past life as a healer (in an ancient civilization) and which has a rich meaning. It refers to the upward growth of all life towards the light and enlightenment, and the struggle of the spiritual process.
This system of healing includes techniques such as: Chakra Charging Chakra System Rebalancing Radiatory Healing Seventh-Layer Healing Chios is taught in three levels all in one book!
Purchase the Book ONLY below:
Chios Book (only)
Cost: $11.99 plus $6.99 postage in U.S.
I have 18 more to go and then that is it.
Instructional DVD for Chios level one
Cost: $19.99 plus $4.99 postage in U.S.
Chios Book AND DVD (only)
No certification
Cost: $29.99 plus $9.99 postage in U.S.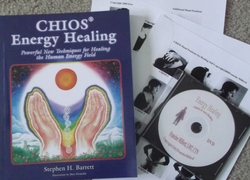 Distant Training
Only $30
No Ce's.
When you purchase the book on your own or buy it below.
All attunements will be given long distant ONLY.
Certificate will be emailed to you after you complete the course.
OR
Get all three attunements, a DVD, additional hand positions and the book for only $99.99 plus $12.99 postage inside of the U.S. (if you live outside of the U.S. email me first for postage costs before placing your order.) Certificate will be emailed to you after you complete the course.
No Ce's.
Have a Question?