Reiki Center of Venice
Need more Clients?
Want to make more money?
Need ideas in promoting yourself and your business?
100+ Ideas for Massage Therapists and Bodyworkers
In this new book, I have created more than 100 ideas that you can use to increase the number of clients you see, to sell more products, and to increase your overall income.
One simple idea is as follows (and not listed in the book):
Take a picture of your treatment room and make postcards of the the picture. Be sure to write a witty saying on the front of the card such as: It's your birthday-treat yourself", or "Don't you deserve this?" Then send this card out to both old and new clients depending on the message that you want to send them. Send a postcard a 2-4 weeks before someone's birthday to get them thinking of scheduling a treatment to 'treat' themselves on their special day, or send cards to clients you haven't seen in awhile. The list is endless and so are the messages that you can send. The only limitation is YOU!
To Do:
Just take a photo of your treatment room that is the most attractive area for you.
Then take the photo through a photoshop program
Here you will add your own message to the photo.
Cost of Book
Cost of Book is only $14.99 plus $4.99 postage
Cost of Book emailed to you is only $10.00
Sorry-no refunds on this product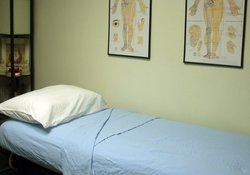 Picture Yourself Here---
---We've missed you